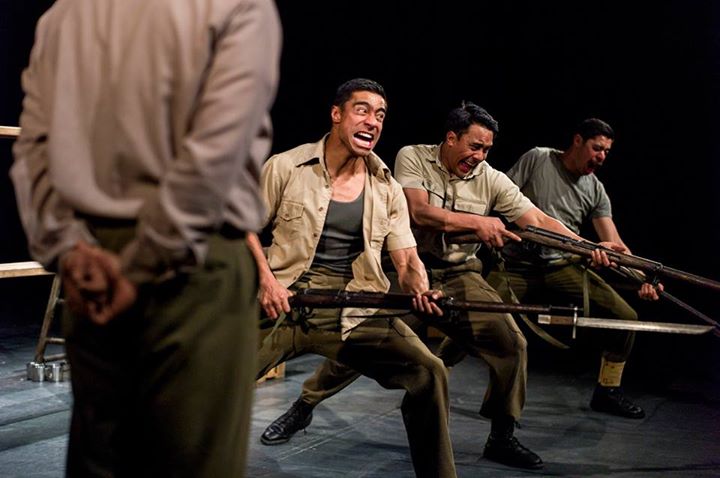 From the programme notes:
Talofa lava
Kia orana
Fakaalofa lahi atu
Taloha ni
Malo e lelei
Ni sa bula
Tena koutou
Welcome
Stories travel a long way. This one began in Taranto, Italy, in November 1943, where a 28 (Maori) Battalion concert included two Samoan songs performed by six Pasifika soldiers. Recording the concert was a roving unit of the New Zealand National Broadcasting Service. One of the songs was Goodbye My Feleni.
Almost seventy years later — and eleven thousand miles away — those songs have inspired a play that tries to reflect this country as a collision of cultures, and that no matter where we come from, we can make a community that is more than the sum of its parts.
I am grateful to those who have signed up this season: actors Dominic Ona Ariki, Shimpal Lelisi, Pua Magasiva, and Shadon Meredith for making the words on the page sing; director Amelia Reid-Meredith for finding depth in the script where I least expected; sound designers Posenai Mavaega & Tanya Muagututi'a; costume designer Venus Stephens; set and lighting designer Ruby Reihana-Wilson for having an awesome eye for detail; and producer Jenni Heka for bringing it all together. Thank you also to Going West's Naomi McCleary for the opportunity, and James Wilson for putting in a good word.
Finally: this play wouldn't be here today if it wasn't for Samuel Churchward, Louis Aspinall, Jacob Foster, Eric Henry, Harry Irwin, and Jim O'Dwyer who in a southern Italian winter sang Samoan songs of love, fear, home and country for their comrades in arms, and their loved ones back home.
Manuia le po
David Mamea
28 August 2014