The latest Herald Time Out had a write up about an upcoming homemade drama, The Cult. Besides my usual grizzling about the complete lack of any mention of writers, something struck me about the large cast: where are the brothers or sisters?
Here's a screen-grab: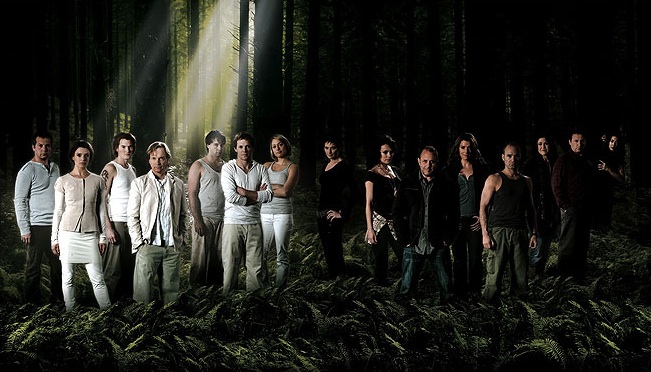 Okay, there's maybe a sister at the far right, peering around a tree but this is New Zild drama, right? And if they're gonna namedrop Lost, I believe that show has:
two black guys,
a Korean couple,
an Indian guy,
a couple of Hispanics,
and an Australian.
Here's a quick run-down of the Mamea Household's Box Watch-list:
Law & Order now has three black detectives;
Dexter and The Closer each have a black cop, a Hispanic cop, and an Asian technician (Dexter) or cop (Closer);
Battlestar Galactica has a Hispanic leader, an Asian pilot and a black bad cylon;
The Wire's ethnicity is slanted towards blacks;
Better Off Ted has a black scientist;
Dead Like Me has a Hispanic reaper;
Fringe has a black supervisor;
Law & Order UK has a black lawyer;
Desperate Housewives has a Hispanic couple.
Meanwhile, if The Cult's publicity shot is anything to go by, its cast has:
no brothers, and
maybe a sister
– but since she's hugging a tree maybe she's the comic relief – or the first one to die.
If this is 'New Zealand on air', I don't recognise it.